Current Club Offerings:  Visit www.archwayscottsdale.configio.com to sign up and pay for club tuition!
Archway Botanical Club, Archway Choir (3rd-5th), Archway Sports: Flag Football (K-5), Archway Sports: Volleyball (K-5), Art: Investigating Identity (3-5), Art: Literature and Art (K-2), Ballroom Dance (1-5), Beginner Ukulele (3-5), Board Games (3-5), Bricks4Kidz (K-5), Chess (K-5), Gymnastics (1-4), Math Olympiads (4-5), Running/Agility Club (K-5), Spanish Club (K-2), Speech and Debate (4-5), Spelling Bee (1-5), TechFun (K-2), TechFun (3-5), Tennis (K-5), Theater with the Higbys (1-5)
* Note: There is no school nurse available during after-school extra-curricular clubs as these are optional, extra-curricular offerings and not part of the mandated school day. 
After-School Athenaeum
After-School Athenaeum is focused on the liberal arts and promotes learning by providing students dedicated homework time in addition to a diverse array of culturally enriching, academically oriented activities beyond the classroom. Our activities and lessons are aimed at improving students' scholastic performance by reinforcing the lessons, virtues and curriculum of the classroom.
But it's not all academics! Athenaeum scholars also enjoy time for recreation, games, socializing and just plain fun. Athenaeum runs daily from the dismissal bell (even on early release and half-days) until 6:00 p.m. Flexible and affordable options are available to fit any family's after-school needs.
*The Athenaeum (ath-uh-nay-uhm) was originally a school in Rome, founded by Emperor Hadrian in 133 A.D. for the promotion of literary and scientific studies.
Questions? Please contact the Campus Coordinator, Kathie Sendra, at Programs.Scottsdale@GreatHeartsAZ.org or 602-740-6221.
Register for After-School Athenaeum Here.
---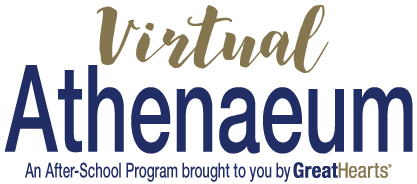 Experience Athenaeum from the comfort of your own home. Check back for new videos each week!
Watch more videos on our YouTube playlist.
---
Before-School Solis Ortus
Register for Before School Solis Ortus here.
Before-School Solis Ortus is a tuition-based extension of the school day for families who need to take advantage of an earlier start to the school day. Solis Ortus allows our families to drop off our children starting as early as 7:15 am. Our children spend the morning with some of our friendly teachers engaged in activities and games! Use the registration link below to read more about this opportunity and to register for Solis Ortus.